Stainless Steel sets
Evelia®
13 Piece Set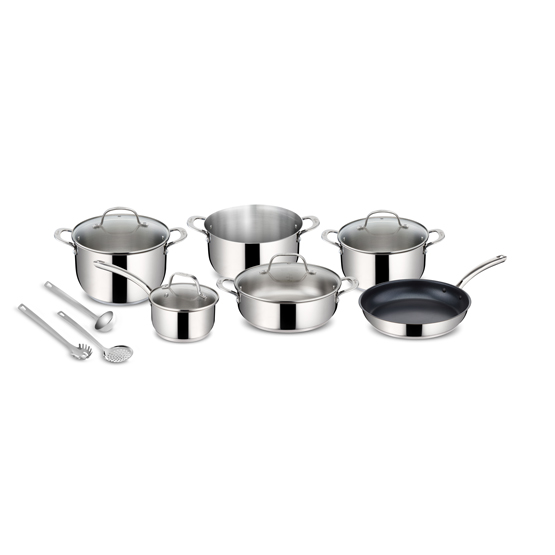 ---

10 year guarantee on stainless steel parts**
**Against material and manufacturing defects
---
LINE

Wokpan with lid

Shallow pan with lid

Frypan

Saucepan with lid

Stewpot with lid

Stokpot with lid
---
TECHNOLOGIES

Lagoseal® Plus base
High thickness Aluminium base enclosed in two steel layers. The Aluminium layer allows the heat to be distributed evenly on the whole base.
---
---
Riveted stainless steel handles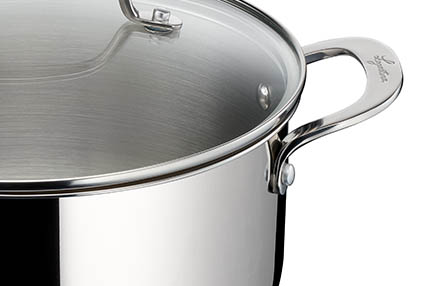 HEAT SOURCES

Plate in vitreous ceramic

Oven safe without lid

Induction heating

Gas

Electric
---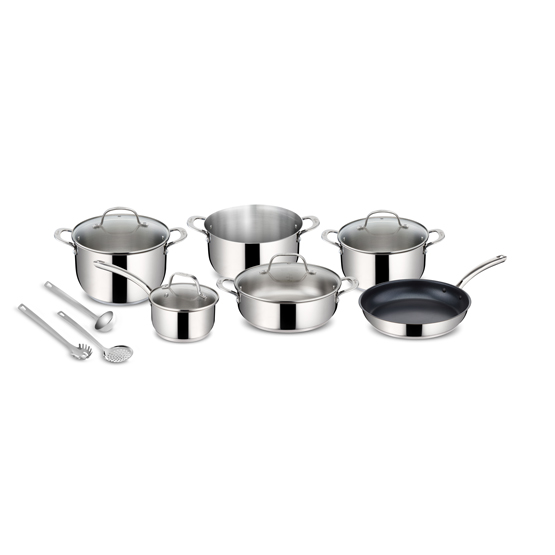 Evelia® is a 18/10 stainless steel. Features a vent on the glass lid to eliminate internal condensation, making it easier to see food during cooking. Riveted handles and loop. Handy for use at the table and in the kitchen to facilitate the pouring of liquids. Includes: Stockpot with lid Ø 22 cm, Saucepan with lid Ø 16 cm, Stewpot with lid Ø 20 cm, Stewpot Ø 22 cm, Shallowpan with lid Ø 26 cm, Frypan non stick Ø 26 cm, Ladle, Skimmer, Pasta fork.
---