Seared Squid on Bed of Artichoke Salad
Starter
ready in: 60 mins
difficulty: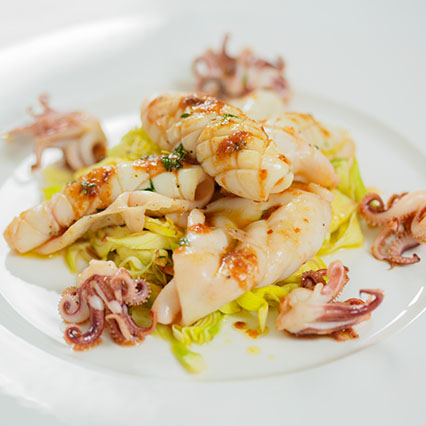 ---
PRODUCTS USED FOR THIS RECIPE
La Risottiera Lagofusion®
La Risottiera Lagofusion®

---
INGREDIENTS FOR 4 PEOPLE
- 4 fresh squids
- 2 artichokes
- 1 lemon
- thyme
- garlic
- salt
- pepper
- Extra virgin olive oil
PREPARATION
- Wash and clean the squid. Remove the beak and separate the tentacles from the mantle.
- Cut the mantle in half lengthwise in order to open it out flat. With the tip of a knife, make small incisions on the back of the mantle, forming small diamond-shaped incisions (these will help the mantle curl).
- Place the squid in a container with the garlic, thyme, a few lemon drops and some oil. Leave to season for at least 1 hour.
- In meantime, clean the artichokes and soak them in water and lemon juice, so that they do not darken. Slice thinly and season with salt, pepper, thyme and olive oil.
- Heat the pan and add a little oil. Place the tentacles in the pan and after a minute add the mantles, by placing them on the side without incisions. After 30 seconds, turn on the other side and curl with pliers. Cook the squid for another minute and then turn off the heat. Salt mildly and serve on a bed of artichoke salad.