Garganelli Pasta with Scallops, Tomatoes and Green Beans
First course
ready in: 15 mins
difficulty: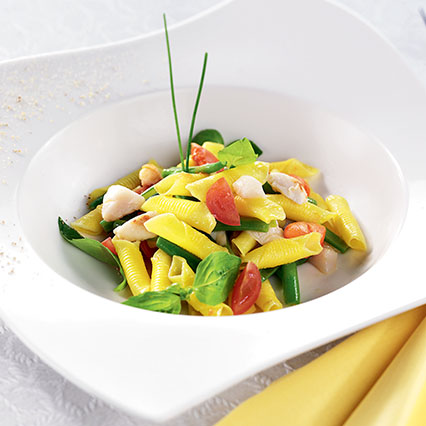 ---
PRODUCTS USED FOR THIS RECIPE
Shallow Pan With Glass Lid
Lavinia®

---
INGREDIENTS FOR 4 PEOPLE
10 oz. Garganelli pasta (about 280 g)
2 oz. chopped scallops (60g)
4.2 oz green beans (120 g)
3 ½ oz. cherry tomatoes
basil to taste
1 ¾ ecodoses of vegetable broth
1 medium shallot
1 tbsp olive oil
PREPARATION
Chop the scallops into small squares (about half a centimeter on each side), cut the cherry tomatoes in half, the green beans into cubes and the basil into thin strips (julienne). Then finely mince the shallot and brown in the pot with olive oil. Add the scallops, a dash of white wine, salt and pepper. Finally, add the green beans, tomatoes and garganelli pasya. Sauté everything together and add boiling vegetable broth at the end. Cover the pot and cook for 8 minutes, starting from when the pot whistles.