Asian Boiled Meat Soup
First course
ready in: 20 mins
difficulty: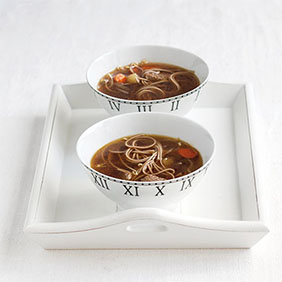 ---
PRODUCTS USED FOR THIS RECIPE
Shallow Pan With Glass Lid
Lavinia®

---
INGREDIENTS FOR 4 PEOPLE
1 lb of beef
1 onion
2 tablespoons olive oil
2 carrots
1 large potato
fresh chives (optional)
2.5 oz of noodles
1 handful of bean sprouts
2.5oz mirin
3 tablespoons soy sauce
1 tablespoon sugar
1 cube nut miso
3 ecodosi water
a pinch of salt
PREPARATION
Cut the meat into cubes of 2-3 cm, the potatoes and carrots into small cubes. Heat oil in pot open, add the sliced ​​onion and cook for 1 minute, stirring often. Add the meat, slightly salamander and slow cook for 2 minutes, stirring often. Add the 3 ecodosi of water, Close the lid and cook on the second position, for 8 minutes from the time the pot comes to pressure.
Remove the pot from the heat, release the valve, open the lid and add the cubes of potato and carrot and nut miso. Stir, close the lid, return to heat and cook for another 3 minutes, always on position 2.
Meanwhile, put the sugar in a glass with soy sauce and mirin (Japanese liquor made from rice) and stir to melt. At the end cooking, release the valve gradually, open the lid, pour in the mixture of soy and mirin, soy sprouts and noodles whole. Return the open pan to a medium flame and cook for 1 minute.
Turn off the flame, let stand 1 minute, then serve. If you wish, add a little chopped fresh chives when serving.